Posts for tag: crown
By Jones Family and Cosmetic Dentistry
April 04, 2013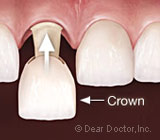 Like the ones worn by kings and queens of old, dental crowns were traditionally made of that most "royal" of metals: solid gold. This style of crown is still going strong after over a hundred years, but recent advances may have stolen some of its luster. Want to learn more about the different materials from which crowns can be made? Read on!
Gold crowns have stood the test of time, and many still consider them the best. Gold is one of the earliest materials to be successfully used for making crowns, and when properly done, it also lasts the longest: over 50 years in some cases. For these and other reasons, many dentists prefer to get gold restorations for their own teeth.
But in recent years, the use of gold crowns has been in decline — especially when the crown is for one of the front teeth. Why? In one word: aesthetics! With the advent of porcelain and porcelain-fused-to-metal (PFM) crowns, many people have opted to go with these more natural-colored tooth restorations.
PFM restorations have been in use for some four decades. They combine the strength of precious metals (gold or platinum) with the appeal of a finish that appears more like a natural tooth. With proper care, a PFM restoration may have a functional life of around 20 years.
With their pearly luster and semi-translucent sheen, all-porcelain crowns have an incredibly lifelike appearance. Porcelain itself is a glass-like material, which is specially modified to add strength when it's used in dentistry. In the past, there were some problems with brittleness in all-porcelain restorations. Today, newer formulations have been designed to avoid these issues.
High-tech materials that have recently become available to dentistry include a polycrystalline ceramic substance called zirconium dioxide or "Zirconia." It shows great promise in terms of aesthetics and strength, and is the subject of much ongoing research. One day, it may replace other materials and become the new "gold standard" of crowns.
Depending on the particular situation, one or more of these materials may be considered for your crown.
If you would like more information about crowns, please contact us or schedule an appointment for a consultation. You can also learn more about this topic by reading the Dear Doctor magazine articles "Porcelain Crowns & Veneers" and "Gold or Porcelain Crowns?"
By Jones Family and Cosmetic Dentistry
February 17, 2013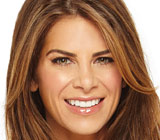 As America's toughest trainer on the hit television program The Biggest Loser, Jillian Michaels helped people learn that they hold the power to change. And if anyone knows about the power of changing oneself, it is Jillian Michaels. In her recent interview with Dear Doctor magazine, Jillian discusses her childhood, the trauma of being overweight as a teenager (5' 2" and 175 pounds), and the day her life forever changed when she started martial arts training at a gym. "I started training when I was 17 and always loved it but never thought it would end up being my career," she said.
Jillian also reveals that when she was a child, she broke her two front teeth and had them repaired with crowns. She added, "Now, I generally wear a mouthguard if I am doing anything where my teeth have any chance of being knocked out."
When it comes to replacing teeth that are broken or damaged from trauma, or teeth that are damaged because of dental decay, grinding habits, or acid erosion, crowns may be your best option. And because the tooth enamel is damaged, a bit more of it must be removed before we can place a crown. Generally speaking, we must remove about 2 millimeters of tooth structure to place a crown. Once the crown is placed, the tooth will always require a crown, as this is an irreversible procedure. However, the good news is that a crown not only mimics the look and feel of a natural tooth, but it is also the optimal long-term solution. On average, a crown last between 5 and 15 years and requires no special maintenance. In fact, you should treat your crown as you do your natural teeth, with a daily cleaning regimen of brushing and flossing and routine dental examinations and cleanings.
To learn more about crowns or other cosmetic procedures, contact us today to schedule an appointment so that we can conduct a thorough examination, discuss any questions you have as well as what treatment options will be best for you. Or to learn more about crowns now, you can continue reading the Dear Doctor magazine article "Porcelain Crowns & Veneers." And to read the entire interview with Jillian Michaels, please see the article "Jillian Michaels."