Posts for tag: common symptoms
By Jones Family and Cosmetic Dentistry
July 15, 2013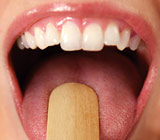 Bad breath, medically known as halitosis ("halitus" – breath; "osis" – disorder) is an unpleasant condition that can negatively impact your personal and business relationships. It's more than just embarrassing! In fact, one recent survey found that three out of five people would rather work with someone who talks too loudly than with someone who has bad breath! Gum, mints and mouth rinses can temporarily remedy the situation, but not cure it permanently. So how much do you know about the underlying causes of bad breath?
The following true/false quiz will help you discover, while learning more about bad breath.
Questions
The most common orally related sites associated with bad breath are the tongue and gums.
Systemic (general body) medical conditions can't cause bad breath.
Bad breath is always worse in the morning.
Effective treatment depends on the underlying cause of the disease.
Dentists can do very little to diagnose the cause of bad breath.
Answers
True. The back of the tongue and diseased gums can become repositories for bacteria. In the case of the tongue they are from left over food deposits and even post-nasal drip. Bad breath that emanates from the tongue has a "rotten egg" odor caused by volatile sulfur compounds (VSCs).
False. Medical conditions can cause bad breath including lung infections, liver disease, diabetes, kidney infections and cancer.
True. Saliva flow decreases during the night making the mouth feel dry, and giving you that typical "morning breath" taste and odor upon wakening.
True. As with any medical condition, uncovering the origin will dictate appropriate treatment. For example, tongue scraping or brushing can help eliminate odor that originate from the tongue. If the cause is disease related, the disease will need to be treated to control associated bad breath.
False. There are several things dentists can do starting with a thorough medical history and oral examination. For example, decayed or abscessed teeth, diseased gums, coated tongue or infected tonsils are all common oral causes. We can also conduct breath tests to determine if the odor is emanating from the mouth or lungs, and test to determine the level of VSCs in the mouth.
Learn More
Worried about bad breath? Are you ready to trade your breath mints for a more permanent solution? Call our office today to schedule an oral examination. For more information about the causes of bad breath, read the Dear Doctor magazine article "Bad Breath: More Than Just Embarrassing."
By Jones Family and Cosmetic Dentistry
December 04, 2012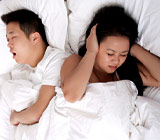 Snoring and Obstructive Sleep Apnea (OSA) is a condition that occurs when the upper airway (back of your throat) collapses or is blocked, causing significant airflow disruption. A person with OSA continues snoring at a regular rate but is interrupted by long silent periods during which there is no breathing for atleast 10 seconds or more. Believe it or not, this issue affects millions of people worldwide. It can leave you feeling tired, depressed, irritable, as well as cause memory loss and poor concentration. And if you have OSA that is left undiagnosed and untreated you could fall victim to heart attacks, strokes, irregular heartbeat, high blood pressure, heart disease and even impotence. For these reasons, we feel it is important that you understand the real-world consequences that can occur if you ignore your OSA.
Reality is that most people are unaware that their dentist can be an excellent resource in helping to diagnose and treat OSA. However the first and most important step is to receive a proper, thorough examination and diagnosis with an appropriately trained physician and dentist. If after completing this process you are diagnosed with OSA, we will discuss treatment options. Some of these may include:
Suggesting that you exercise and lose weight if you are overweight.
Sleeping with a Continuous Positive Airway Pressure (CPAP) machine that provides pressurized air into your airways through a mask that covers both your nose and mouth while sleeping.
Sleeping with a professionally made oral appliance or mouthguard that can reposition your lower jaw, tongue, soft palate and uvula (the dangling tissue in the top, back portion of your mouth) into a better position during sleep to relieve blockage.
If you are ready to discuss you questions and concerns about your snoring, or the snoring habits of another family member, contact us today to schedule a consultation. You can also learn more about the signs, symptoms, and treatment options when you read "Snoring & Sleep Apnea."
By Jones Family and Cosmetic Dentistry
August 23, 2012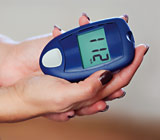 Did you know that recent research has shown diabetes is a risk factor for increased severity of periodontal (gum) disease and that periodontitis is a risk factor for worsening blood glucose (sugar) control in people with diabetes? Periodontitis can even increase the risk of diabetic complications for people diagnosed with diabetes. When you combine these facts with the following, you will clearly see how important it is to understand and manage these two diseases.
Over 23 million people in the United States currently have diabetes and over 170 million worldwide.
14+ million Americans have a condition called pre-diabetes.
Another estimated 6 million people in the US have diabetes but are unaware and thus not diagnosed.
Periodontal disease is the second most common disease known to man, only surpassed by tooth decay.
Diabetic individuals with periodontal disease have a greater risk for cardiovascular and kidney complications than those diabetics not having periodontal disease.
What You Can Do
One of the most important steps you can take if you have either of these conditions or suspect that you might have one or both is to make an appointment with your physician or with our office for a thorough examination. You should schedule an appointment with your physician for an exam and blood work so that your general health and well-being are monitored. Be certain to share your medical information and any family history of diabetes with our office, as it tends to occur in families.
Learn More
Learn the risks and how to take care of types 1 and 2 diabetes, as well as the stages of periodontal disease (with detailed full-color illustrations) when you read the Dear Doctor article, "Diabetes & Periodontal Disease." Or if you want to schedule an appointment to discuss your questions, contact us today.