Posts for: June, 2014
By Jones Family and Cosmetic Dentistry
June 17, 2014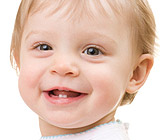 Even before your infant's first tooth emerges, you can take steps to reduce the risk for cavities!
Cavities occur when decay-causing bacteria living in the mouth digest carbohydrates (sugars) introduced into the mouth via food and beverages. This produces acid, which can eat through the protective enamel surface of teeth and attack the more vulnerable dentin below. Infants aren't born with decay-promoting bacteria; however, they can acquire them from their caregiver(s) through close contact, for example:
Kissing on the mouth
Sharing food
Sharing eating utensils (e.g., a spoon or glass)
Cleaning off a pacifier by mouth
Tooth decay is the most common chronic childhood disease! It can start as soon as the first tooth erupts — which generally happens around age 6 to 9 months but can be as early as 3 months or as late as 1 year. Besides being potentially painful, severe tooth decay may cause your child to lose the affected primary (baby) tooth before it's due to fall out on its own. That, in turn, can raise the risk of orthodontic problems because primary teeth maintain space for permanent teeth, which also use them as their guide for coming in properly.
It's important to clean your child's teeth regularly once they appear and to refrain from certain feeding activities that have been linked with early tooth decay. For example, use of a sleep-time bottle containing a liquid with natural or added sugars, such as formula or juice, can result in a pattern of severe decay once referred to as "baby bottle tooth decay." These days, the term early childhood caries (ECC) is more commonly used to also encompass decay linked to continuous sippy-cup use, at-will breast-feeding throughout the night, use of a sweetened pacifier, or routine use of sugar-based oral medicines to treat chronic illness.
We recommend that you schedule a dental visit for your baby upon eruption of his or her first tooth or by age 1. This first visit can include risk assessment for decay, hands-on instruction on teeth cleaning, nutritional/feeding guidance, fluoride recommendations, and even identification of underlying conditions that should be monitored. Your child's smile is a sight to behold; starting early improves the odds of keeping it that way!
If you would like more information about infant dental care, please contact us or schedule an appointment for a consultation. You can also learn more about this topic by reading the Dear Doctor magazine article "Age One Dental Visit."
By Jones Family and Cosmetic Dentistry
June 02, 2014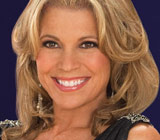 Everyone knows Vanna White as the elegant co-host of the popular game show Wheel of Fortune. But here's one thing you may not know: White is listed in the Guinness Book of World Records as television's most frequent clapper, with an average of 720 claps per show — that's over 28,000 per season! And here's something else: the star with the megawatt smile wore braces as a kid, and she's not too shy to talk about it.
"I only had to wear them for a year and it was a good experience for me," she told an interviewer for Dear Doctor magazine. But when it was time for her son to get them, White noticed something different. "We used to have those silver bands that went all the way around each tooth, and they don't have that anymore. It is fascinating to see how far they have come."
We're glad she noticed! In fact, orthodontic appliances have advanced a good deal in the past decade or so. Instead of using metal bands, brackets holding the wire part of braces are now typically attached directly to the teeth with a dental adhesive. For an even less obtrusive look, ask about using colorless brackets instead of metal ones — that way, the only part that's clearly visible is the thin wire itself. And in some situations, braces can be placed on the lingual (tongue) side of the teeth, making them all but invisible.
Another type of nearly invisible appliance is the clear orthodontic aligner. The aligner system consists of a series of precision-made transparent "trays" that fit over the teeth. Each tray is worn for a few weeks, and each moves your teeth by a small amount; together, they can help correct mild to moderate orthodontic problems. And the best part — they're really hard to notice! That makes them perfect for both adults concerned about a "professional" look, and image-conscious teens.
So if you're a TV star — or if you'd just like to have a brighter and better smile — it's never too late to get started! If you would like more information about orthodontics, please contact us for a consultation. You can learn more in the Dear Doctor magazine articles "The Magic of Orthodontics" and "Clear Orthodontic Aligners."