Posts for: January, 2013
By Jones Family and Cosmetic Dentistry
January 15, 2013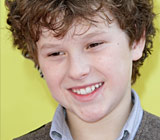 Nolan Gould, who plays Luke on the popular TV comedy Modern Family, has beautiful, straight teeth. But in an exclusive interview with Dear Doctor magazine, the young actor said it wasn't always that way.
"My teeth used to be pretty messed up," Nolan said. "I had two extra teeth when I was born. They hadn't come out (erupted) yet. And all the other teeth that were already there were starting to point backwards because it was getting so crowded in my mouth. At about the age of 7, I started going to the orthodontist to get my teeth checked."
Age 7 may sound early for a visit to the orthodontist, but in fact that's exactly the age we recommend for a first orthodontic evaluation. Malocclusions (bad bites) often become noticeable around this time, as the child's permanent (adult) teeth erupt. We might already be able to see evidence of the following problems: crowding, too much space between teeth, protruding teeth, extra or missing teeth, and sometimes problems with jaw growth. So even if your child is too young for braces, it is not necessarily too early for an orthodontic evaluation.
This type of exam can spot subtle problems with jaw growth and emerging teeth while some baby teeth are still present. Early detection of orthodontic problems makes it easier to correct those problems in the long run. Waiting until all of the permanent teeth are in, or until facial growth is nearly complete, may make correction more difficult or even impossible. That's why the American Association of Orthodontists recommends that all children get a check-up with an orthodontist no later than age 7.
Orthodontic treatment itself usually begins between ages 7 and 14. Therapy that begins while a child is still growing, often referred to as "interceptive orthodontics," helps produce optimal results. In Nolan's case, an early orthodontic evaluation allowed his orthodontist enough time to plan the most effective treatment. Nolan's two extra teeth were removed before they had a chance to push his other teeth even further out of alignment, and he was given orthodontic appliances which fit behind the teeth.
"You can remove them, which is really good for acting, especially because you can't see them. I can wear them 24/7 and nobody will ever notice."
One thing that is noticeable, however, is Nolan's perfectly aligned smile!
If you would like to learn more about improving tooth alignment with orthodontics, please contact us to schedule an appointment for a consultation. To read Dear Doctor's entire interview with Nolan Gould, please see "Nolan Gould." Dear Doctor also has more on an "Early Orthodontic Evaluation."
By Jones Family and Cosmetic Dentistry
January 05, 2013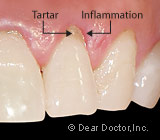 What does it mean when your dental hygienist recommends root planing? To put it simply, root planing is a method of cleaning the roots of your teeth in order to avoid periodontal ("peri" – around, "odont" – tooth) disease.
Periodontal disease happens when dental plaque, a biofilm of bacteria, is not regularly removed and begins to build up on teeth near the gum line. The bacteria cause inflammation, and this in turn causes the gum tissue to detach from the teeth. The widening spaces between the gum tissue and the teeth, called pockets, are environments in which bacteria can continue to collect and cause further inflammation and infection. Ultimately, this can lead to infection, bone loss, and loss of teeth.
Root planing is a technique designed to avoid such dire results. The bacteria, along with products they manufacture as part of their metabolism, can become ingrained in the surfaces of the tooth's root (the part of the tooth that is below the enamel). These bacterial products will form hard deposits called tartar or calculus.
Deep Cleaning Your Teeth
Of course, the best idea is to brush and floss away the plaque before the bacteria begin to build up on your teeth. If this is not done and pockets begin to form, the bacteria and toxic products are more difficult to remove in order to deep clean your teeth.
The first step is scaling. My hygienist or I will remove superficial collections of calculus. If material still remains within deep pockets, root planing is the next step. It involves actually planing the surface of the root, smoothing the surface free of calculus, bacteria, and toxins that have ingrained into the root surfaces.
Root planing is most often done under local anesthesia so that you remain comfortable while the cleaning procedures are done. The initial cleaning may be done by an ultrasonic instrument that vibrates particles off the root surfaces and flushes the pockets with water. Small hand instruments called curettes are used to finish the process. Antibacterial medication may then be used to help clear away infection from the pockets. Sometimes you may experience some tooth sensitivity to hot and cold after the root planing. If needed, this can be treated by applying fluoride to the root surfaces.
Depending on the extent of your gum disease, it may not be possible to remove all the deposits at one appointment, and it may be necessary to have multiple appointments over a few weeks to remove the remaining deposits. Often after three to four weeks the inflamed tissues have healed, leaving you with healthy gums once again.
Contact us today to schedule an appointment to discuss your questions about dental hygiene and root planing. You can also learn more by reading the Dear Doctor magazine article "Root Planing."