Posts for tag: dental care
By Jones Family and Cosmetic Dentistry
January 23, 2022
Modern dental restorations are not only more life-like than past generations, but also more durable. Today's fillings, crowns and bridges can last for years or even decades.
But that doesn't mean you can set them and forget them—they all require some level of maintenance and care. Here are 3 common restorations and what you need to do to make them last.
Fillings. Whether traditional dental amalgam ("silver") or tooth-colored composites, fillings today are incredibly strong and durable. But they do have one point of vulnerability, especially larger ones—the seam where the filling material meets the natural tooth. Bacteria tend to build up along this seam, which could lead to decay and the formation of a new cavity that weakens the filling. To avoid this, be sure you're brushing and flossing everyday and seeing your dentist at least twice a year.
Veneers. Dentists bond these thin shells of tooth-colored porcelain over the visible surface of teeth to hide chips, stains or other blemishes. But although the bonding agents we use create an incredibly strong hold, the bond between the veneer and tooth could weaken when subjected to higher than normal biting forces produced by nail-biting, ice-chewing or a tooth grinding habit. If you have such a habit, see your dentist about ways to minimize it and protect your veneers.
Bridges. Traditional bridges consist of an array of artificial crowns with those in the middle substituting for the missing teeth, while those on the end attach to the natural teeth on either side of the gap to support the bridge. Bridges can also be supported by dental implants. In either case, tooth decay or gum disease could undermine the natural teeth or bone supporting a bridge. To avoid a bridge failure, keep the areas around supporting teeth or implants clean and regularly checked by a dentist.
Above all, the danger dental disease poses to natural tissues also threatens the restorations that depend on them. Keeping your mouth free of disease is your best strategy for ensuring your dental work enjoys a long, functional life.
If you would like more information on protecting your dental work, please contact us or schedule an appointment for a consultation. You can also learn more about this topic by reading the Dear Doctor magazine article "Extending the Life of Your Dental Work."
By Jones Family and Cosmetic Dentistry
November 06, 2015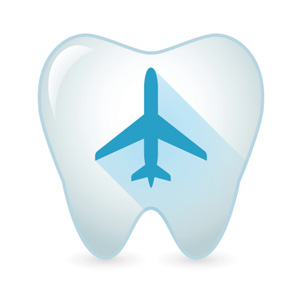 Each year, over a million Americans venture abroad for healthcare, with roughly half for dental treatment. Cost is the main reason — "medical tourists" believe they can save substantially on treatment, even with travel.
But before undertaking such a venture for dental work, there are some things you should take into consideration. For one, although quality care exists all over the world, you'll also find different standards of care. In the United States, for example, not only must dental providers graduate from accredited schools, they must also pass state examinations before they can practice (specialists even more). In some parts of the world, educational standards aren't as difficult to attain. You may also find differing standards for infection control, drug applications or appliances: for example, you may find a lower quality in implant or crown materials or craftsmanship than you might expect in the U.S.
Communication can also be an obstacle. Language barriers make it more difficult to understand what to expect before, during and after a procedure, or to have your questions answered. It may also hinder your provider from fully accessing your medical and dental history, which could have an impact on your treatment and outcome. Limited communication also increases misunderstanding about services offered, charges and treatment expectations.
Finally, many dental procedures have multiple phases to them, some of which normally span several months and visits. Many who go abroad for more complex procedures may try to have them performed in a much shorter time frame. Doing so, however, could prove disappointing both in the quality of the final outcome and your own well-being under such an arduous schedule. Even if your dental work is performed in an exotic locale, recovering from extensive procedures where you must rest and refrain from strenuous activity is best performed in the comfort of your own home.
It's important to get the facts before traveling to a foreign country for any medical or dental treatment, especially about a region's accreditation and care standards, as well as what you can expect in terms of amenities and culture during your stay. One good source is the U.S. Center for Disease Control's web page for medical tourism (http://goo.gl/75iWBk).
Going abroad for dental care is a big decision — be sure you're prepared.
If you would like more information on dental treatment abroad, please contact us or schedule an appointment for a consultation. You can also learn more about this topic by reading the Dear Doctor magazine article "Dental & Medical Tourism: It's No Vacation."