Posts for tag: bad breath
By Jones Family and Cosmetic Dentistry
July 01, 2015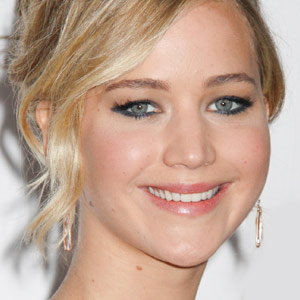 Exchanging passionate kisses with big-screen star Jennifer Lawrence might sound like a dream come true. But according to Liam Hemsworth, her Hunger Games co-star, it could also be a nightmare… because J.Law's breath wasn't always fresh. "Anytime I had to kiss Jennifer was pretty uncomfortable," Hemsworth said on The Tonight Show.
Lawrence said the problem resulted from her inadvertently consuming tuna or garlic before the lip-locking scenes; fortunately, the two stars were able to share a laugh about it later. But for many people, bad breath is no joke. It can lead to embarrassment and social difficulties — and it occasionally signifies a more serious problem. So what causes bad breath, and what can you do about it?
In 9 out of 10 cases, bad breath originates in the mouth. (In rare situations, it results from a medical issue in another part of the body, such as liver disease or a lung infection.) The foul odors associated with bad breath can be temporarily masked with mouthwash or breath mints — but in order to really control it, we need to find out exactly what's causing the problem, and address its source.
As Lawrence and Hemsworth found out, some foods and beverages can indeed cause a malodorous mouth. Onions, garlic, alcohol and coffee are deservedly blamed for this. Tobacco products are also big contributors to bad breath — which is one more reason to quit. But fasting isn't the answer either: stop eating for long enough and another set of foul-smelling substances will be released. Your best bet is to stay well hydrated and snack on crisp, fresh foods like celery, apples or parsley.
And speaking of hydration (or the lack of it): Mouth dryness and reduced salivary flow during the nighttime hours is what causes "morning breath." Certain health issues and some medications can also cause "dry mouth," or xerostomia. Drinking plenty of water can encourage the production of healthy saliva — but if that's not enough, tell us about it: We may recommend switching medications (if possible), chewing xylitol gum or using a saliva substitute.
Finally, maintaining excellent oral hygiene is a great way to avoid bad breath. The goal of oral hygiene is to control the harmful bacteria that live in your mouth. These microorganisms can cause gum disease, tooth decay, and bad breath — so keeping them in check is good for your overall oral health. Remember to brush twice and floss once daily, stay away from sugary foods and beverages, and visit the dental office regularly for checkups and professional cleanings.
So did J.Law apologize for the malodorous makeout session? Not exactly. "[For] Bradley Cooper, Christian Bale, yeah, I'll brush my teeth," she laughed.
Hemsworth jokingly agreed: "If I was kissing Christian Bale I probably would have brushed my teeth too. With you, it's like, 'Eh. Whatever.'"
If you would like more information about bad breath and oral hygiene, please contact us or schedule an appointment for a consultation. You can learn more by reading the Dear Doctor magazine article "Bad Breath: More than Just Embarrassing."
By Jones Family and Cosmetic Dentistry
March 10, 2014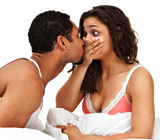 Treating bad breath is big business. Just check your local drug store or supermarket and you'll find a mind-numbing array of mints, gums, mouthwashes, sprays, strips and other products that promise to sweeten your breath and make you (or your mouth at least) irresistible. But most of these products only mask halitosis (from the Latin "halitus" – exhalation, and Greek "osis" – disease) and some even contain ingredients, like sugar, that contribute to tooth decay and gum disease. In most cases, for enduring, healthful results, nothing beats a trusty toothbrush, toothpaste and floss, used faithfully and correctly, along with periodic dental checks and cleanings.
Oral bacteria are the number one reason for noxious breath. More than 600 types inhabit our mouth, and some of them emit awful odors — predominantly volatile sulfur compounds characterized by a "rotten egg" smell) — as they consume remnants of food trapped in our mouth. Brushing and flossing regularly, especially after eating, can dislodge food trapped between teeth (interdental) and under the gums (subgingival), depriving microbes of a ready-made meal. It also disrupts the buildup of sticky plaque (microbial "biofilms") where odor-causing germs can flourish.
When cleaning your mouth, pay special attention to the back of the tongue. It is the primary location for generating halitosis because it is drier and less efficiently cleansed by saliva and normal oral activity than the front. Our office can instruct you on proper oral hygiene including the gentle use of a tongue scraper or brush.
Sometimes more involved periodontal techniques such as scaling and root planing (deep cleaning) are called for; antibiotics may be useful in targeting the offending microbes. If tooth decay and/or periodontal (or gum) disease is contributing to halitosis appropriate treatment is necessary.
Remember that foul breath is just a symptom of some underlying condition. If diligent oral care at home doesn't do the trick, our office can help you get to the root of the problem and determine the appropriate therapy.
If you would like more information about halitosis and ways to prevent or treat it, please contact us or schedule an appointment for a consultation. You can also learn more about this topic by reading the Dear Doctor magazine article "Bad Breath."
By Jones Family and Cosmetic Dentistry
July 15, 2013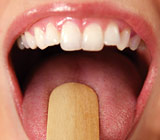 Bad breath, medically known as halitosis ("halitus" – breath; "osis" – disorder) is an unpleasant condition that can negatively impact your personal and business relationships. It's more than just embarrassing! In fact, one recent survey found that three out of five people would rather work with someone who talks too loudly than with someone who has bad breath! Gum, mints and mouth rinses can temporarily remedy the situation, but not cure it permanently. So how much do you know about the underlying causes of bad breath?
The following true/false quiz will help you discover, while learning more about bad breath.
Questions
The most common orally related sites associated with bad breath are the tongue and gums.
Systemic (general body) medical conditions can't cause bad breath.
Bad breath is always worse in the morning.
Effective treatment depends on the underlying cause of the disease.
Dentists can do very little to diagnose the cause of bad breath.
Answers
True. The back of the tongue and diseased gums can become repositories for bacteria. In the case of the tongue they are from left over food deposits and even post-nasal drip. Bad breath that emanates from the tongue has a "rotten egg" odor caused by volatile sulfur compounds (VSCs).
False. Medical conditions can cause bad breath including lung infections, liver disease, diabetes, kidney infections and cancer.
True. Saliva flow decreases during the night making the mouth feel dry, and giving you that typical "morning breath" taste and odor upon wakening.
True. As with any medical condition, uncovering the origin will dictate appropriate treatment. For example, tongue scraping or brushing can help eliminate odor that originate from the tongue. If the cause is disease related, the disease will need to be treated to control associated bad breath.
False. There are several things dentists can do starting with a thorough medical history and oral examination. For example, decayed or abscessed teeth, diseased gums, coated tongue or infected tonsils are all common oral causes. We can also conduct breath tests to determine if the odor is emanating from the mouth or lungs, and test to determine the level of VSCs in the mouth.
Learn More
Worried about bad breath? Are you ready to trade your breath mints for a more permanent solution? Call our office today to schedule an oral examination. For more information about the causes of bad breath, read the Dear Doctor magazine article "Bad Breath: More Than Just Embarrassing."